03/21/2017 Posted by Boca Raton CRA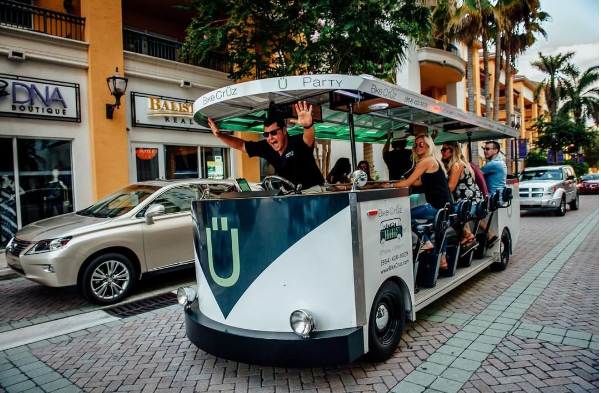 South Florida's Favorite Party Bike
Spend any time in Downtown Boca in the evening hours and you're likely to see BikeCrÜz riding past you, being powered by a group of friends, co-workers or families having a grand old time. BikeCrÜz is south Florida's new favorite party bike and a hot social experience. The bike can seat up to 14 people, traveling at about 5 miles per hour on guided tours throughout downtown, led by a trained driver and CrÜz Manager. The riders supply the pedal power, enjoy music and ride their way into local nightlife, stopping at 2-3 locations along way where they sample drinks and food. Current tours include a Downtown Boca BikeCrÜz, BikeCrUz WineCrUz (Wine/Food Tours) and a Boca BrUnchHop. Alternatively, guests can create their own custom charter BikeCrÜz for any day and time they wish.
So how did the idea for this unique experience and mode of transportation come about? BikeCrÜz is the brain child of Brandon Appel. Brandon boasts 10 years of experience in the tourism industry, a degree in hospitality and tourism management, and a passion for providing an amazing guest experience – and dreamt of a venture like this for a long time.
Brandon grew up in Boca Raton part time, often visiting his grandparents who had a second home here. Growing up in the suburbs of Philadelphia, Brandon always loved visiting south Florida, and far back as he can remember, always wanted to make it his home. Brandon is now a 13-year resident of Boca Raton, his roots are here – he has family, friends, colleagues and now his own business here.

"As I drive the BikeCrÜz down the street in Mizner Park today, and see all the smiling faces, young and old, I still can't believe what seems like yesterday. I was a 9-year old boy visiting my grandparents, going to local restaurants, the Town Center Mall - which is much larger now, Royal Palm Plaza (the pink mall!), Gumbo Limbo, and of course Mizner Park. Eating brunch there with my family at Max's Coffee Shop (now Racks), stopping by Liberties books to listen to a CD sample and maybe getting a book or coffee, watching people stroll the shops, and seeing all the beautiful cars parked in front of valet."

"Things have changed and shops have evolved, but the streets and trees are still just as beautiful now as they were then. Downtown Boca has grown up, new businesses arrived, hotels came and sleepy shopping centers have turned into destinations. Our small city has emerged as great place to visit. I'm in awe that I get the opportunity to play a small role in that. I often wonder what it would be like if 22 years ago, while sitting in Mizner Park as a kid, I saw my BikeCrÜz pedal by."

"It gives me great joy to see the amount of smiles we put on the faces of the people who see and experience BikeCrÜz, and I'm proud to play a role in shaping the vibe and experience of such a nostalgic and special part of my youth."
Experience BikeCrÜz yourself and let Brandon show you around our amazing downtown – and a little bit of his childhood.
BikeCrÜz
561-322-9191
SHARE ON: