03/21/2017 Posted by Boca City Walk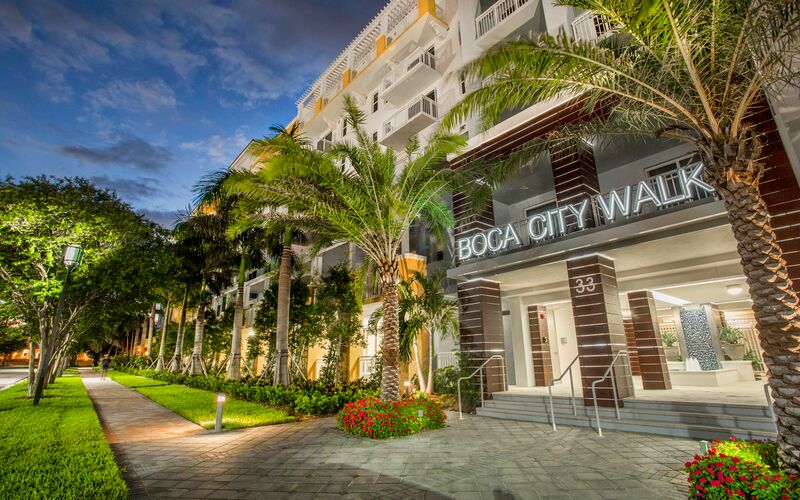 Boca City Walk
Living in Downtown Boca certainly equates to "living the dream" for many of us. Sunshine, shopping, dining, nearby beaches and a beautiful energy are all at our fingertips. Recently, a new local gem has opened its doors along the Boca scene; Boca City Walk Apartments. Boca City Walk offers residents a truly striking and luxurious community right in the center of everything. Trader Joe's is steps from your front door! However, that is not the only thing that makes Boca City Walk a hidden gem in the heart of downtown. What sets this chic and stylish property apart from many others is the boutique, communal, engaging, and carefree living experience. Our residents are people. They are not just apartment numbers. When you live in the hustle and bustle of the exciting south Florida landscape, you want to come home to an escape - a charming place where everybody knows your name!
At Boca City Walk we accent the amazing backdrop of our community with a highly focused and resident-centric team. We have selected a management staff that prioritizes customer service, resident events, boutique living, and basically doing whatever they can to make our residents lives a bit easier. One of the most exceptional things about living at Boca City Walk is the holistic lifestyle experience that our team provides our customers, the residents, and the well-executed, resident-driven events.
Here is a sneak peek at just a few of the upcoming events up at BCW – call us for details for all events:
Singles Mingles Events – Join Karen Roumay from It's a Singles Thing, to meet local singles looking to network and make friends in the Boca area. Enjoy cocktails and company in our beautiful Sky Lounge!
Frank Sinatra on the Balcony – Russell Spadaccini from WineEvents.com expertly pairs wines from his robust cellar with delicious lite bites prepared by Chef's Table to the sounds of the amazing Marco Turo. An affair to remember!
It's 5 O'Clock Somewhere – Join us every Thursday from 3pm to 5pm for happy hour at Boca City Walk. We would love to meet you, show you our beautiful community and pour you a drink!

For the latest and greatest on all things Boca City Walk, don't forget to find us on Facebook and Instagram. You can't get more Downtown Boca Beautiful than this!
Boca City Walk
33 SE 8th Street Boca Raton, FL 33432
(561) 600-9579
www.bocacitywalk.com
SHARE ON: