NIGHTLIFE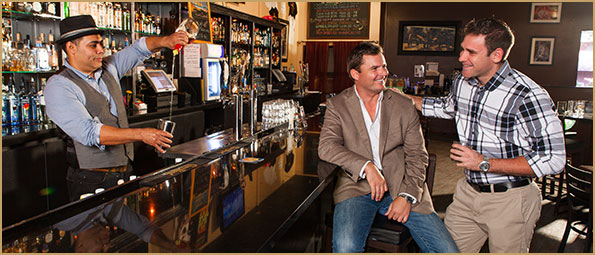 We're always up for a little fun once the sun goes down. You'll find live music offerings seven nights a week, along with cocktails, dancing and late-night eats here:

131 East Lounge
A great neighborhood bar and lounge
Biergarten Boca Raton
Authentic German and American beer garden featuring 50 different craft and bottled beers.
The Black Rose Irish Pub
Traditional Irish bar offering billiards, darts, live music and an outdoor patio.
Diplomat Cigar Lounge
Boca Raton's premier cigar lounge featuring a wide selection of cigars and accessories, top shelf spirits and popular cocktails.
The Dubliner Irish Pub
A traditional Irish pub with a casual, friendly atmosphere.
The Funky Biscuit
A nightly offering of drink specials and live music, from rock and R&B to bluegrass.
Flanigan's
Famous for their baby-back ribs, fresh fish selections and drink specials all week long.
Kapow! Noodle Bar
Asian cuisine meets French Vietnamese flair, open till midnight M-F and 2 a.m. weekends.
Hijinks
Go to watch the game, get a great meal and pair it with an unbeatable drink selection.
Max's Grille
A modern American bistro known for its extensive wine menu.
O'Brian's Irish Pub
Fun and friendly Irish pub with outdoor seating, weekly specials and comfort food.
Patio Tapas & Beer
Traditional and modern Spanish tapas alongside beer, sangria and wine all in a relaxed European style atmosphere.
Pat's WIne Bar & Grill
Pat's Wine Bar & Grill brings a taste of Napa Valley to Downtown Boca Raton. Select from fine wines, local craft beer and accompaniments.
Platforms Retro Dance Club
Playing your favorite dance hits from the 70's, 80's and 90's.
Tanzy Boca Raton
Artisanal Italian cuisine offering lunch, dinner, and late-nite dining along with craft cocktails.
The Rebel House
A full service "renegade" restaurant created as a place to imbibe, ingest, and indulge.
Vino's Wine Bar & Italian Tapas
Over 200 wines available by the glass lets you compare regions, vintages, and varietals. Plus fresh Italian tapas.
Wish Boca
A tapas bar, restaurant and cocktail lounge in Royal Palm Place.
Yard House
An upscale-casual eatery featuring more than 100 beers on tap.
SHARE ON: