WHO WE ARE
Wonderful, walkable, and filled with things to do, Downtown Boca is a hub for entrepreneurs, visitors, and friendly locals. Whether you're thinking about starting a business or escaping to Florida for the weekend, Downtown Boca will beguile you with its beautiful architecture, great public spaces, lush landscaping, and seaside charm. The Boca Raton Community Redevelopment Agency (CRA) is focused on keeping Boca beautiful and booming, encouraging economic development and helping businesses meet their individual goals.
What is Downtown Boca?
Downtown Boca is a 344-acre, pedestrian-friendly district of shops, businesses, restaurants and living spaces. It was here that famed 1920's architect Addison Mizner established his signature Spanish-Mediterranean style, which went on to become the hallmark of our buildings. Many of them have been meticulously restored to their former glory, and new construction here imitates the unmistakable Mizner style. The magnificent Mizner Park, one of the earliest successful mixed-use developments in the United States, was named after the famous architect, known for traveling between Boca and Palm Beach with his mischievous pet monkey, Jonnie Brown.
For a little more information and a historic look back,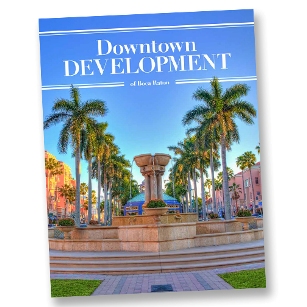 click here for the:
Downtown History Digital Brochure.

For a map of Downtown Boca,
click here: Map
What sets us apart?
Pardon us for bragging, but we have much to brag about:
Our 5th Annual Brazilian Beat festival received 2 awards from the Brazilian Press Awards
The Florida Redevelopment Association (FRA) honored Downtown Boca with an award for our marketing campaign, Come Early, Stay Late in 2016
Downtown Boca received not one, but 3! International Downtown Association (IDA) Merit Awards for our annual Brazilian Beat Festival (2015), our Pedestrian Promenade and Sanborn Square Arches (2015), and our marketing campaign Come Early, Stay Late (2016)
The American Planning Association named Plaza Real one of its Top 10 Great Public Spaces in the US
Movoto called Boca Raton one of the Top Five Best Dressed Small Cities (number two, to be precise)
The League of American Bicyclists recognized us among just 11 other cities in Florida as one of the great Bicycle Friendly Communities
We're home to a full menu of annual festivals, from the weeklong Festival of the Arts in the spring to the spicy, sensual Brazilian Beat each fall. More than a dozen cultural attractions and art galleries call Downtown Boca home, including the Boca Raton Historical Society & Museum, the Boca Museum of Art, and Mizner Park Amphitheater.
With an ongoing commitment to beautiful aesthetics, promising business opportunities, and pedestrian-friendly initiatives, it's easy to see why we are Boca's beauty spot. Downtown Boca, come early and stay late.
SHARE ON: